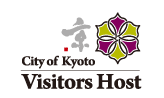 Miho
| | | |
| --- | --- | --- |
| Language(s) | : | English |
| Expertise | : | Cultural properties, Traditional industries |
Hello everyone, my name is Mihoko and I was born and raised in Kyoto, but I have also lived and taught Japanese in Vancouver and Taiwan for several years.

During our tour I'll try my best to answer any of your questions and make your precious time in Kyoto meaningful.

I'm sure you all, just as I do, appreciate eating good food, so I'll introduce to you some of the great food Kyoto has to offer as well as introduce to you some of Kyoto's natural beauty, culture, and history.

Kyoto has various things to love! And I hope to help you to discover your favorite Kyoto!

Thank you very much for deciding to visit this gem of a city!
Guide's Calendar