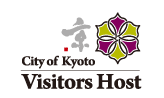 Toki
Language(s)
:
English
Expertise
:
Cultural properties
Qualification
:
Itinerary management supervisor
Fee
:
28,000 JPY / day (8hours)
18,000 JPY / half a day (4hours)

Home Page
:
https://www.instagram.com/not_only_tokyo/
Recommend Course
:
Rulers of the Old Capital
Kyoto Imperial Palace → Nijo Castle → Golden Pavilion → Silver Pavilion
Hi, I'm Toki!
Toki means "time" in Japanese. And even though I didn't know it when I first picked this nickname, looks like I made a good choice.
I'm a huge Japanese history fan and particularly fond of so-called Bakumatsu period (mid 19th century).
Love architecture, minimalistic design (if you do too, do check Japanese brand nendo) and try to live sustainably. So far not doing that well with the last one.
Also, I'll be a great help for you if you want to visit some anime related spots, go somewhere off the beaten path or learn about all the craziest things Japanese history hides under the boring passages in the textbooks.
Guide's Calendar