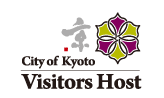 Sara
Language(s)
:
English
Expertise
:
Cultural properties
Fee
:
36,000 JPY / day (8hours)
24,000 JPY / half a day (4hours)

Home Page
:
http://www.curatedkyoto.com/
I am a creative director who shares stories of Kyoto with the world and a certified tour guide who is passionate about connecting people with Kyoto.
As a half-Japanese child growing up in New Zealand, one of the greatest gifts my mother gave me was raising me with two languages and cultures. As a result, I have the unique advantage of having both a western and eastern perspective on Kyoto.
For four years I worked in a Kyoto based media team. I have directed shoots for numerous temples and shrines, shared stories of Kyoto via social media, and co-authored the 'Amazing Kyoto' guide book.
I have also introduced my favorite Kyoto hot spots on Japanese TV (NHK, Asahi TV, and TBS to name a few).
I have professional experience touring and working with media people, cooperate clients and celebrities.
I look forward to meeting you and showing you this beautiful and creative city.
Guide's Calendar