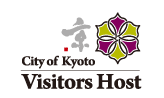 Maya
I've been guiding many guests in English and Spanish. I love my city and enjoy sharing local experiences, history, culture and places "off the beaten track" with visitors.

I've been to Mexico and Great Britain when I was a student. Also I traveled more than 40 times(19 countries).
As an avid traveler I love meeting people from around the world.

The characteristic of my guidance is the use of ''Original materials''.
Guiding not only with words but also with Handmade materials including old maps of Kyoto, ancient writings and Japanese woodblock prints help you enjoy Kyoto with its deep history and background.

My interests range from classic to modern, from tea rooms to modern cafes, from Japanese sake to craft beer, and from Zen meditation to outdoor activities such as hiking on Mt. Kurama.

I'm also licensed in Tea ceremony and Japanese flower arrangement. Besides working as a licenced guide, I work in the tea ceremony workshop for foreign visitors.

I can give you the best itinerary according to your schedule, budget and requests.
Please feel free to ask me.
I look forward to meeting you and showing you around!

[Note]
●The fee includes:
Private guide in English

●Does NOT include:
Entrance tickets
Food and drink
Transportation
Guide's Calendar
Performance
Enjoy the Gion Festival and all the major spots in Kyoto! A full-day tour of Kyoto

(July 17,2019) I guided a family from Germany. At their request, I arranged an itinerary that covered the highlights of the festival, but also the main sites of Kyoto: Nijo Castle, Gion, Kenninji Temple, Yasaka Pagoda, etc. The weather was good and we were able to enjoy each site to the fullest.

~ A group from Mexico including a family with little Samurai boy ~

I guided a group from Mexico including a family with a boy. He bought a Japanese Samurai sword filled with colorful sweets inside that he enjoyed the Kyoto tour playing with.
It was the first time for all the member of the group to visit Japan.So we enjoyed learning not only the culture,history and local life of Kyoto but also of whole Japan.

Visiting my brother 18,000km - Joint trip to Kyoto with his brother & his family from Argentina

(December 26, 2019) I guided guests from Argentina traveled to Japan to visit their brother in Japan.Since they wanted to cover all the famous tourist attractions without walking too much. This time, we used a combination of public transportation and cab. We enjoyed Fushimi Inari, Arashiyama, Yasaka Pagoda at dusk, and the Gion area, and departed for Osaka in the evening.