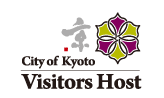 Maya
I've been guiding many guests in English and Spanish. I love my city and enjoy sharing local experiences, history, culture and places "off the beaten track" with visitors.

I've been in Mexico and Great Britain when I was a student. Also I traveled more than 40 times(19 countries).
As an avid traveler I love meeting people from around the world.

The characteristic of my guiding is use of ''Original materials''.
Guiding not only with words but also with Handmade materials including old maps of Kyoto, ancient writings and Japanese wood rock print help you enjoy Kyoto with its deep history and background.

My interests vary from classics to hipster, Chashitsu (tea house) to modern coffee shops, Japanese rice wine to craft beer and Zen meditation to outdoor such as Mt. Kurama hike.

I'm also licensed in Tea ceremony and Japanese flower arrangement. Besides working as a licences guide at KVH, I work in the tea ceremony workshop for foreign visitors.

I can give you the best itinerary according to your schedule, budget and requests.
Please feel free to ask me.
I look forward to meeting you and showing you around!

[Note]
●The fee includes:
Private guide in English
Pick up at the hotel in Kyoto

●Does not include:
Entrance tickets
Food and drink
Transportation
Guide's Calendar
Performance
~ Authentic Kyoto tour + Tea ceremony~Collecting the red stamps of Shrines and Buddhist temples like a Spanish pilgrimage roads

We guided a couple coming from Spain for 2 days.
In addition to sightseeing in Kyoto and Nara,they participated in a full-fledged tea ceremony experience and enjoyed learning more about Japanese culture and history.
ICOM has just been held in Kyoto, and many commemorative exhibitions, including Kiyomizu-dera Temple, have become more enjoyable sightseeing in Kyoto.

~ Esoteric Buddhism and Zen Buddhism ~

I attended 2 guests on their family trip from England.
We spend half day visiting highlights of Kyoto include two different types of budhism temples(Esoteric and Zen budismo) to understand the history and background of budhism in Japan.
Also we enjoy strolling Higashiyama and Gion Maiko District where still has the scenery reminiscent of the old days.We were lucky to be able see Maiko.

~A Trip to Kyoto: Beauty and Nature~The end of the day is "Teppan-yaki" and "watching Sumo wrestling"

I attended a family from Spain with hired car.Since they love Japanese nature and beauty,such as gardens,Buddha statues,and architecture,We enjoyed Arashiyama area with Rickshaw ride,Bamboo forest and Monkey park.We visited 1,001 statues of Buddha,Gardens of Mimori Shigemori, and the oldest temple gate in Kyoto.We had a lunch a in an local restaurant and They enjoy Teppan-yaki watching Sumo on TV.