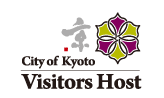 Maya
Language(s)
:
English, Spanish
Expertise
:
Traditional industries
Fee
:
28,000 JPY / day (8hours)
18,000 JPY / half a day (4hours)

Home Page
:
https://www.maya-kyotoguide.com/
I've been guiding many guests in English and Spanish. I love my city and enjoy sharing local experiences, history, culture and places "off the beaten track" with visitors.

I've been in Mexico and Great Britain when I was a student. Also I traveled more than 40 times(19 countries).
As an avid traveler I love meeting people from around the world.

The characteristic of my guiding is use of ''Original materials''.
Guiding not only with words but also with Handmade materials including old maps of Kyoto, ancient writings and Japanese wood rock print help you enjoy Kyoto with its deep history and background.

My interests vary from classics to hipster, Chashitsu (tea house) to modern coffee shops, Japanese rice wine to craft beer and Zen meditation to outdoor such as Mt. Kurama hike.

I'm also licensed in Tea ceremony and Japanese flower arrangement. Besides working as a licences guide at KVH, I work in the tea ceremony workshop for foreign visitors.

I can give you the best itinerary according to your schedule, budget and requests.
Please feel free to ask me.
I look forward to meeting you and showing you around!

[Note]
The fee includes...
・My guiding・Consulting・Planing the original and unique itinerary just for you・Arrangement fee
(Reservations or researches that you need in Kyoto).
Guide's Calendar
Performance
~A Trip to Kyoto: Beauty and Nature~The end of the day is "Teppan-yaki" and "watching Sumo wrestling"

I attended a family from Spain with hired car.Since they love Japanese nature and beauty,such as gardens,Buddha statues,and architecture,We enjoyed Arashiyama area with Rickshaw ride,Bamboo forest and Monkey park.We visited 1,001 statues of Buddha,Gardens of Mimori Shigemori, and the oldest temple gate in Kyoto.We had a lunch a in an local restaurant and They enjoy Teppan-yaki watching Sumo on TV.

~Family trip in summer vacation ~Fresh green and seasonal flowers in Japanese gardens.

I guided 6 guests, a family from Mexico.
It was a hot day and the gentleman requested a break with beer.We enjoyed unique local beer that made using the same yeast that is used to make sake.
Since the mother is a florist,we enjoy the Japanese garden with irises and also dropped by several flower shops with 'hydrangea'.In Gion,we were luck to see a Maiko wearing a Kimono designed with 'hydrangea'.

~ The Wedding in Kyoto ~ The traditional ceremony and the party with Maiko and Geiko

I worked for a couple from the USA for a few months in all the preparation for their wedding, not only as an interpreter, but also organizing reservations, translation of emails and documents to design the plan. A few months later, I was also hired as an interpreter for the wedding day .
It was a beautiful wedding with his family and many friends who came from various parts of the world!