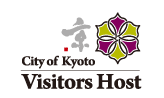 Alexi
| | | |
| --- | --- | --- |
| Language(s) | : | English |
| Expertise | : | Cultural properties, Traditional industries, Traditional Culture, Food Culture |
| Qualification | : | Itinerary management supervisor |
| Fee | : | 30,000 JPY / half a day (4hours) |
Recommend Course
:
Foodie, Picturesque, Nature and Gardens, Craftsmanship
Foodie MANPUKU tour → Craftsmanship tour → Picturesque spots tour → Nature and Gardens tour
Thank you for visiting my page.
I'm Alexi.
I was born and raised in Kyoto.

I was born in Kyoto and living here total 20 years now.
Since I have been moving out from Kyoto many times, I've keep discovering the new side of my hometown even today.
I love eating and my motto is "People who love to eat are always the best people."
Every time I travel by myself, I am always curious about local people's daily life.
The tour I propose will introduce you to Japan's unique lifestyle and culture and food.
I'll be happy to spend time with you and hope you will enjoy your time.
Discover Kyoto with me and you'll fall in love with this beautiful and magical city.
Looking forward to seeing you!

Follow me on Instagram:tanq_salon
Guide's Calendar
Performance
In this class, students learned how to lay gold leaf in this age-old technique and made their own paperweights to take home.2016/10

Traditional art crafts tour:Gold leaf

Guest from Germany.
It was his 2nd time to come to Japan.So his aim it to dig Japan deeply.
So I decided to take him to the Traditional art crafts tour:Gold leaf.
Since many workshops will let visitors observe and ask questions.
I can provide translations in these situations to help illuminate the process.
He said it was really impressive to see the craftsmanship.

Studio visit and Sagano tour

Guest from NY and UK.
They're working at the filed of the art restoration.
So I took him to the art restoration studio then to the Sagano area to enjoy beauty of autumn in Kyoto.Since I carefully pick the perfect time and place, we could enjoy quiet and beautiful moment.Looking forward to seeing them again.