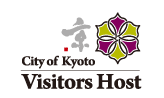 Alexi
Language(s)
:
English
Expertise
:
Cultural properties, Traditional industries
Qualification
:
Itinerary management supervisor
Fee
:
40,000 JPY / day (8hours)
20,000 JPY / half a day (4hours)

Hi! My name is Alexi Tsubasa.
I was born and raised in Kyoto.
I am an official and qualified tour guide of Kyoto city.

It's my honor and privilege to introduce Japanese culture to our guests from overseas.
Every time I travel by myself, I am always curious about local people's daily life.
The tour I propose will introduce you to Japan's unique lifestyle and culture.

Discover Kyoto with me and you'll fall in love with this beautiful and magical city.
Looking forward to seeing you!
Performance
Tours can be arranged privately or for larger groups.
Here we're about to embark on a group tour of Kiyomizu Pottery Factory.
We also had useful Japanese lessons during our bus ride to get there.

Pottery being painted at Kiyomizu Factory. My guests learn about the process directly from the craftsmen and can even purchase a memento for home afterwards.

Guide's Calendar