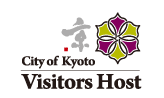 Alexi
| | | |
| --- | --- | --- |
| Language(s) | : | English |
| Expertise | : | Cultural properties, Traditional industries, Traditional Culture, Food Culture |
| Qualification | : | Itinerary management supervisor |
| Fee | : | 30,000 JPY / half a day (4hours) |
Recommend Course
:
Foodie, Picturesque, Nature and Gardens, Craftsmanship
Foodie MANPUKU tour → Craftsmanship tour → Picturesque spots tour → Nature and Gardens tour
Thank you for visiting my page.
I'm Alexi.
I was born and raised in Kyoto.

I was born in Kyoto and living here total 20 years now.
Since I have been moving out from Kyoto many times, I've keep discovering the new side of my hometown even today.
I love eating and my motto is "People who love to eat are always the best people."
Every time I travel by myself, I am always curious about local people's daily life.
The tour I propose will introduce you to Japan's unique lifestyle and culture and food.
I'll be happy to spend time with you and hope you will enjoy your time.
Discover Kyoto with me and you'll fall in love with this beautiful and magical city.
Looking forward to seeing you!

Follow me on Instagram:tanq_salon
Guide's Calendar
Performance
Tours can be arranged privately or for larger groups.
Here we're about to embark on a group tour of Kiyomizu Pottery Factory.
We also had useful Japanese lessons during our bus ride to get there.

Guest from Israel.We had 2days tour together.Their request in the beginning is just focus on famous sightseeing spots.But they changed their mind because of me.So I took them to my favorite places and they really liked it.We're watching the beautiful sunset together and they said "We already decided to be back here again."which makes me very happy.2016/10

Guest from Aus.
We went to the pottery festival in Sennyu-ji area and got the Matcha/Grean tea offer from shop.After that, hands on experience at Pottery studio. My guests learn about the process directly from the craftsmen and can even purchase a memento for home afterwards.
We also visited TSUDUREORI waving studio.And they could try how to weave using traditional weaving machine.