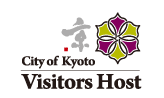 Greg
I've lived, worked and studied in Japan since 2002 (15 years). Started out on the Japanese Exchange Program (JET) as an Assistant Language Teacher (ALT) for 3 years in Nara.

Moved to Kyoto and studied Japanese Language & Cultural Studies at Ritsumeikan University and at Kyoto Japanese Language School (KJLS).

Worked at Hyatt Regency Kyoto Hotel for 2 years. During my time at the Hyatt, I worked as bell-desk captain and concierge giving me a firm grasp of tourist related knowledge and the various needs of non-Japanese guests. Also, I won the Hystar, a designation that recognizes an employee's outstanding level of service based on comments from guests and managers.

In 2012, I opened up my own business (www.handsonkyoto.com), providing hands on experiences as a cultural coordinator and now tours as a tour guide. I specialize in creating private tours (www.handsonkyoto.com/kyoto-tours/), tailor made to client requests, ranging from individuals to small groups or families.
Guide's Calendar