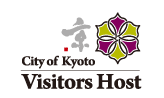 mio
| | | |
| --- | --- | --- |
| Language(s) | : | English |
| Expertise | : | Traditional industries |
I have lived in Kyoto for 13 years.
From big temples and shrines, to a small jizo statue in the street, there are a lot of things that have been cherished and taken good care of for years in Kyoto. If you take a walk, you will discover a lot of interesting cultures and things about Kyoto and Japan!
Let's find out together!
Guide's Calendar