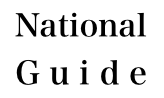 Nami
| | | |
| --- | --- | --- |
| Language(s) | : | English |
| Qualification | : | National Guide, Itinerary management supervisor |
Recommend Course
:
"Kyoto Hiighlights" "Enjoy Arashiyama"
Togetsu Bridge → Tenryuji Temple → Bamboo Forest → Arashiyama Monkey Park
Hello! My name is Nami. I live in Kyoto, the ancient capital of Japan, which is rich in culture and historical sites, including 17 World Heritage sites. I am proud to be a resident of such a beautiful city that is admired by the world.

Since I was a child, I have seen many tourists from abroad visit the city with tour guides, and it naturally became my dream job. Fortunately, I now have the opportunity to work as a guide and meet new people, showing them around Kyoto. With pleasure and gratitude in mind, I will do my best to welcome you to my hometown.

<Profile>
Live in Fushimi, Kyoto. Stayed in Australia for a year on a working holiday. After working for a hotel and manufacturer, started working as a guide in 2014.

<Guide experience>
Experience in guiding small to large groups. (Total guiding days: 400+ days, tourists' nationality: 30+ countries)
Mainly Kyoto and also other Kansai areas such as Osaka, Nara and Koyasan, in addition to further areas including Hiroshima and Takayama.
Guide's Calendar
Performance
A group from Turkey. 
During the tour, they suddenly asked me if there was anywhere they could lend kimono. It was the height of the season, but I managed to find one that was able to rent kimono for 10 people. We enjoyed walking around Fushimi Inari Shrine dressed in kimono!
I was very happy to see their satisfied smile.

A group from Israel.
They seemed to be impressed by Ginkakuji Temple in particular, which has a wonderful garden and building emphasising quiet simplicity and subdued refinement.

Ninja Experience

Family from UK.
They requested a ninja experience, so I took them to a dojo where we can observe iai or a Japanese Samurai martial art and experience some ninja techniques such as throwing shuriken. They really liked the unique experience in which both adults and children can participate!