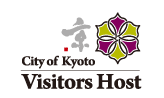 Saori
Language(s)
:
English, French
Expertise
:
Traditional Culture
Qualification
:
Itinerary management supervisor
Fee
:
30,000 JPY / day (8hours)
15,000 JPY / half a day (4hours)

Recommend Course
:
Kyoto tour for the first time
Kinkaku-ji (Golden pavilion) → Nijo Castle → Kiyomizu temple → Fushimi Inari shrine
Hello and welcome to Kyoto!
Currently I live in Kyoto city near Kyoto station, however, I've lived in Osaka and in Aix-en Provence, in France when I was a university student. I've so far traveled more than dozen's of countries, especially in Europe, to visit museums, to brush up my language skill or for my work. If you are interested in art, Japanese brewery Sake or Green tea, I'm willing to guide you to spot which I highly recommend including Fushimi and Uji area. In order to accomplish your ideal Kyoto city tour, I would like to ask you in advance your request and wish and then I will suggest you the best plan and its price. Thank you!
Guide's Calendar
Performance
Kyoto Goryo festival

I accompanied a couple from LA and Beijing. We started from Yasaka shrine to visite Gion Shinbashi, Nijo castle and Imperial palace where, luckily, we could catch up with a marching line of Goryo festival from Kamigoryo shrine. They were lucky enough to encounter Geiko and Maiko in Gion area on the way to Kiyomizu temple. I wish them continuous good luck for their future ahead.