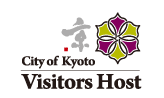 TK
| | | |
| --- | --- | --- |
| Language(s) | : | English |
| Expertise | : | Traditional industries |
| Qualification | : | Itinerary management supervisor |
| Fee | : | 24,000 JPY / half a day (4hours) |
Recommend Course
:
Northern Kyoto Bike Tour
Daitokuji Zen temple → 1,000 year old sweets shop → Fabric weaving district → Local shopping arcade
★Local insight by an insider in the Ancient capital Kyoto.

Using a City of Kyoto Visitors Host as a guide will redefine your whole travel experience.
Equipped with an extensive knowledge of the city and its unique arts and culture acquired through participating in the Visitor's Host course, I am passionate to share my knowledge of Kyoto with you. Let me help make your trip be only the beginning of a lifelong love of the magical city of Kyoto.

Please feel free to contact me with your trip ideas. I'm happy to work with you to create your unique travel experience in Kyoto. If you have enough time or have visited the city before, I can help you find the quirky, interesting local places that you would perhaps otherwise not get to see or experiences. If you are lucky enough to time your trip for cherry blossoms/autumn colours or seasonal events, I can take you to the best possible places to see and experience the most you can.

The range of tours I can provide includes bike tour, walking the Kyoto hills, evening tour, morning tour, art tour, a tour called "Zen and tea ceremony experience for vegetarians" and more. Also, I'm happy to seek the chance I can arrange a visit to traditional artisans' studio.This variety would bring your travel experience to the next level.


★Tours given since October, 2017 till June,2018: 125 tours
★The number of guests I have guided since October, 2017 till June,2018 : 350 guests

★Rates:
*All tours are private, just your own group.
*Kids aged 3 or younger are free of charge

Guiding fee for a group of up to 4 people
4-hour tour 24,000 yen
6-hour tour 32,000 yen
8-hour tour 40,000 yen
3.5 hour Gion evening tour: 24,000 yen
4.5-hour afternoon tour + 3.5-hour evening tour : 48,000 yen
Additional charge would apply to starting and/or finishing outside Kyoto City.
Please inquire for a larger group.

★What's included:
Private custom tour
Guide's local transportation costs (intercity train fares are exception, like from Kyoto to Nara, which will be traveller's responsibility)
Guide's entry fees ( there are some exceptions, like Kyoto Tower, which will be traveller's responsibility)

★What's not included:
Traveller's transportation costs
Traveller's entry fees
Traveller's meal
Guide's meal
Guides's and traveller's lunch or dinner
Guides's and traveller's other expenditures ( for instance. rental bikes, tea ceremony)
Please note that starting and / or finishing in other city like Osaka will require extra charge.

★Payment method:
PayPal or wire transfer in advance
Cash is acceptable in some cases.
Your booking will be confirmed when the payment is complete.

★Rescheduling policy
IF my availability allows, rescheduling is acceptable till 11 days prior to the tour date, but one time only.

★Cancellation policy
After the tour is booked, a cancellation fee may be charged when traveller(s) intend to cancel the tour.

For bike tours, please ask for bike tour special clause.

No-show or termination after the commencement of the tour: No refund
On the day: No refund
On the previous day: No refund
2-3 days prior to the tour: 50% refund
4 -10 days prior to the tour: 75% refund
11 days or more prior to the tour: 100% refund

★Bike tour special notes:
BIke tours are subject to the weather. Please understand that bike tours will switch to non-bike tours using public transportation or taxi in case I decide not to run bike tours. If you would like to choose not to have an alternative tour, please note that 100% cancellation charge will be incurred.

★Late commencement
I will push back the time of commencement for up to 10 minutes. When 10 minutes has passed, I commence my service time. If you were 30-minute late, then the actual tour duration would be 20 minutes shorter than scheduled duration.

+81-90-4900-4319
(090-4900-4319)
Takaaki Yamane


Information on this page is subject to change without notice.
Performance
Nov.2017 I got an enquiry through this website and led a private tour for 3 Kiwis. With their limited days and time, I provided the best possible tour to get a snapshot of Kyoto. The girls quickly got to love Japan and realised they didn't have enough time to see Kyoto. They were only beginning to embrace their lifelong passion for Kyoto. Photo: One of the guests started collecting calligraphy.

Dec 2017, I toured a group of two from Hawaii for a day and a half. On Day 1, we went to Tofukuji Zen temple, Fushimi-Inari Shrine and Fushimi area. I specifically incorporated Fushimi Area for Sake bewary into this trip since the guests like Sake, and it worked! On Day 2, I took them to Gion area and neighborhood that included a religious rites open to the public only this time of year.

May, 2018: I guided a group of three from Canada to Fushimi-Inari Shrine, Tofukuji Zen temple and the Gion. In the Gion we were incredibly fortunate to see a maiko making the rounds of the area, greeting clients and local people, as part of her ceremonial debut. It was a very rare moment and the perfect opportunity to learn more about Geisha culture in Kyoto.

Guide's Calendar