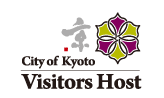 Hideko
| | | |
| --- | --- | --- |
| Language(s) | : | English |
| Expertise | : | Traditional industries, Food Culture |
| Qualification | : | Itinerary management supervisor |
I am a freelance interpreter and also a tour guide. I used to work at LED lights maker and translated some documents and also interpreted for colleagues from overseas at global meetings. Since I was certified as Kyoto Visitors Host (KVH) by Kyoto city, I started working as a tour guide such as Hotel's walking tour, Nishiki market and Gion walking tour etc.

I have been to New Zealand and England to study English before and traveled around Europe, Asia and some other countries. While I was travelling I met a lot of nice people from different countries with various cultures. So I am good at communicating with people.

With all of my experiences as an interpreter and a tour guide, I would like to be a bridge between Japan and your countries! I always try to be a better guide with warm hospitality who can show you how unique and wonderful our tradition and culture are. I am looking forward to meeting you here in Kyoto!

Experiences so far
As an interpreter:
・Business talk at workshop with New York City tourism bureau
・Business talk at the biggest Food Show in Kansai area
And more.
※I'm looking forward to working as an interpreter in this KVH field more!!

As a tour guide:
・Tour in Manga museum
・Walking tour in Gion and Maiko/Geiko area
・Walking and eating food tour in Nishiki market
・Walking in Gion area and meeting Maiko tour
・Walking tour in Higashiyama area and experience Japanese tea ceremony
・And more.
Guide's Calendar